Floating Cork Flooring
Floating cork flooring is one of the two primary types of cork flooring available on the market. Floating cork floors are the best type to choose if youíre looking to install them yourself. Unlike cork tile flooring they donít require any glue or sealant to install them. However, you should have some basic home improvement knowledge when attempting to install a cork floating floor. You can review some of our articles on cork flooring installation to get a better idea on how the installation process works. You can continue reading below to find out if this type of cork floor is right for your household.
The Basics of Floating Cork Flooring
A floating cork floor is similar to other types of floating floors with the primary difference being itís made out of cork material. Unlike other types of flooring installations you wonít need any glue or sealants. One of the best things about a floating cork floor is that it can be virtually installed over any type of sub-floor and even old flooring, as long as itís not too badly worn. Instead of tiles, a floating cork floor is made out of planks and these planks will vary in size. These cork floor planks actually have special connections on their ends that allow the planks to snap together.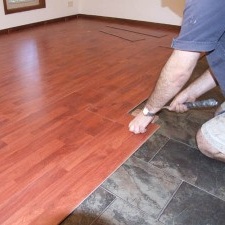 Virtually every manufacturer that makes floating cork flooring has started making them in every type of color you could imagine. Many will even do custom colors based on the customersí requests but this can dramatically increase the cost of your project. You will get the benefits of cork flooring while being able to customize via the wide variation of colors and patterns. Since the average homeowner with some do-it-yourself knowledge can easily install a cork floating floor, the average cost of this project is much lower when compared to a cork tile installation.
If there is a chance that a floating cork floor might be right for your household then we recommend that you learn more about cork flooringís benefits. You might also want to learn a little bit more about cork flooring. As a smart homeowner itís important that you make the right choice and adding a new floor to your home can be an expensive project. This is why you should also read about cork flooring pros and cons prior to making your decision. Whatever you decide we hope you chose an eco-friendly project just like cork flooring!
Pictures of Floating Cork Flooring
Below are just a few examples of households with a floating cork floor. If you are interested in seeing more examples of cork floors we recommend that you take a peek at our cork flooring pictures archive. If youíd like to send us your pictures to showcase here feel free to contact us, we love showcasing visitorís homes that have cork flooring.
Duro Design Floating Cork Floor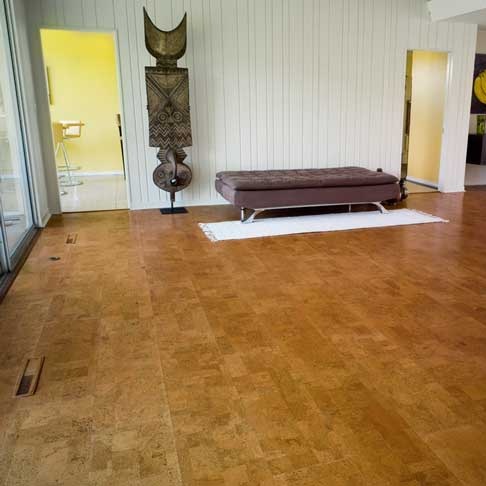 APC Cork Floating Cork Floor