Cork Tile Flooring
Cork tile flooring is one of the two primary types of cork flooring available on the market. Unlike floating cork flooring cork tiles require more skill and labor to install. They might not be the best choice for the average do-it-yourself homeowner. However, if you are interested in learning how to install cork tiles we recommend you review our one of our cork flooring installation guides. Below you'll be able to learn a bit more about cork tiles and help you decide if it's the right type of cork flooring for use in your household.
The Basics of Cork Tile Flooring
Cork tiles are similar to other types of tile flooring with the obvious difference being they are made from cork. Most standard installations of cork floor tiles will use glue and a sealant. You are able to install it on a concrete floor but if you're going to use an alternate sub-floor it would be best to check with the manufacturer of the cork tiles to see what they recommend. You'll find that most cork tiles will come in the 12" x 12" standard tile size. However, you can find tiles that are larger but keep in mind it will cost more and be harder to replace if your cork floor requires a repair.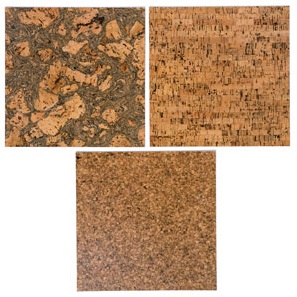 Most cork flooring manufacturers that make cork tiles will have tiles that come in an array of colors, styles and patterns. That means you can actually get red cork flooring tiles that match the exact shade of red that your drapes are, obviously it costs more to get custom colors. With the natural and organic look of cork you can be assured that no two cork tiles will look the same. This makes it easy to keep constant variation throughout your room.
If you think cork floor tiles might be right for your home we recommend that you learn more about cork flooring. You'll find that not only is cork a durable and beautiful flooring product, but that it's also a sustainable, eco-friendly product. That is just one of the many benefits of cork flooring and rest assured, when you weigh the pros and cons of cork flooring you'll see the scale is tip in your favor.
Pictures of Cork Tile Flooring
Below are just a few examples of homes utilizing cork floor tiles. If you'd like to see more examples of cork being used for flooring we recommend that you visit our cork flooring pictures archive. If you'd like to send us your pictures to showcase here feel free to contact us.
Wicanders Cork Tile Flooring in the Kitchen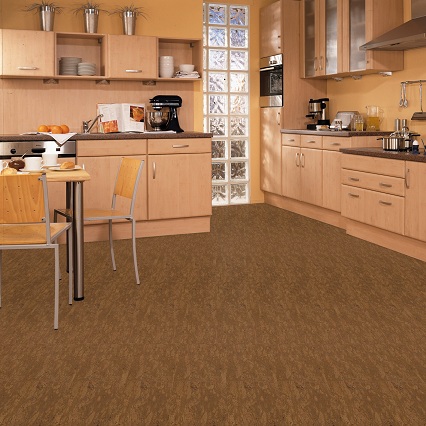 Expanko Dark & Light Traditional Cork Tiles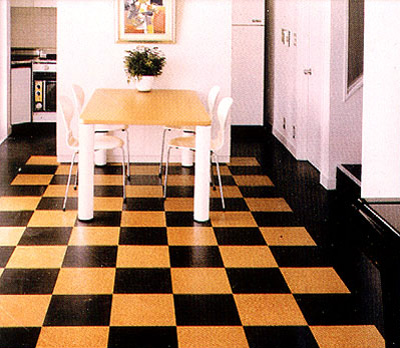 Globus Cork Tiles in a Gym